Community Features
8 Acres of Lush Landscaping
Extra Large Private Dog Park
24-Hour Hi-Tech Fitness Center
Cedar Sauna
Tanning Bed
Pool Table
Picnic & BBQ Areas
A Friendly and Courteous Staff at Your Service
Grill Station on the Paver Patio
Tiki Bar
Swimming Pool and Hot Tub
Free DVD Video Library
Steps from Bus Routes
Near Parks & Trails
Close to Prime Shopping Centers/Restaurants
Easy Access to Hwy 34
Outdoor Tennis, Basketball, and Volleyball Courts
Children's Play Area
---
COVID-19 UPDATE
As the Coronavirus has become an evolving and uncertain public health concern, please know that your health, safety, and wellness is our top priority.
We want to assure you that we are monitoring and following recommendations from public health officials. We are working very hard to plan for the next impacts that we may experience.
The evolving nature of this event requires us to be flexible. Here are some changes we are currently implementing:
Our Fitness Center and Dog Wash areas are currently closed.
We understand that there may be school and office closures in our area. We are not planning on closing our onsite office, at this time. Should public health authorities recommend office closures, or should we become short-staffed, we have a plan in place to provide all essential services. We do ask that you please limit your visits to the office.
We will always welcome your call 970-330-5704 or text 970-400-1272 or you can send us an email at gatewayplaceoffice@gmail.com. You can also contact us through your resident portal. If you have not set up your resident portal, please visit our website at www.gatewayplaceapts.com and follow the Resident Portal link. You will need to use the same email address you have provided to us.
We will communicate any changes to our office hours, or any closures should that occur via email and notices.
Most importantly, we also encourage you to stay informed and follow the public health guidance about hand washing, staying home when you are sick, and all other steps you can take to reduce risk to yourself and to others in our community. The CDC website has great information and resources about Coronavirus.
We appreciate your cooperation and patience as we navigate through this challenging situation.
---
The community at Gateway Place Apartments is friendly, accommodating, and — of course — fun. We make it a priority to create amenities and features that our residents will use frequently to help themselves grow.
Explore The Space
The Grounds at Gateway Place are luscious and full of beautifully mature landscaping. We have 8 acres that are kept well by a professional team, so you don't have to worry about any maintenance. You can just enjoy it as if it were your own!
Extra-Large, Private Dog Park & Dog Wash Station
We're pet friendly. And that doesn't stop with allowing your furry friends to live in your apartment with you. We have a pet-friendly complex and a gorgeous, fenced space where residents can bring their pups to run and play. Then, suds 'em up at the community dog wash station.
Play Outside
If you like to stay active, you'll likely want to take advantage of our basketball, volleyball, and tennis courts. There are two full-size tennis courts that are fenced for a better play experience. When you're done with a tennis match, head over to shoot hoops or play some half-court basketball outside too. Next comes the sand volleyball courts where you can play a full game with all your friends.
The Children's Play Area is located right by the tennis, volleyball, and basketball courts so everyone in the family can play outside together — especially the kids who love to swing, climb and slide!
Go for a Swim
With a pool and hot tub, Gateway gives you plenty of time to sit back and relax. There are tables and chairs around the pool grounds, so you can make a day of it at the pool. So come on down for a fun pool party or a relaxing time getting some sun. We're happy to gather together.
Centrally Located
Though we love our apartment homes and community amenities, we know that our residents need to live in a place that makes it easy to get to the rest of their lives too.
That's why we're happy to offer a complex that's close to a bus stop for the GET Regional. Our bus stop is located off 24th street between the apartment complex and Greeley West High School. If you drive to commute, you'll appreciate the easy access to Highway 34 off 35th Ave.
We're also within walking distance or a short drive to prime shopping centers and restaurants, such as the Centerplace Shops with Target, Safeway, Best Buy, and lots of other great restaurants and stores. And of course the Westlake Village Shops with King Soopers, Once Upon a Child, Butters, and more restaurants & local shops to support.
Lastly, you can explore more of what Greeley parks offers with Greeley West Park, Sanborn Park, and more located within walking distance of Gateway Place Apartments.
Hi-Tech Fitness, Low-Tech Commute
Staying physically fit has no restrictions at Gateway Place with our 24-hour hi-tech fitness center. Residents don't have to commute to another gym when you have access to our center all hours of the day.
It includes cardio equipment with personal entertainment & digital tracking of vitals while you work out. There are also weight machines, free weights, and plenty of space to get creative with exercise balls and yoga mats.
In addition to the fitness room, we offer a cedar sauna for residents to enjoy a relaxing, dry heat. Residents can also get their tan on at our private tanning bed.
The fitness center also offers a great source of recreation, with billiards and foosball available for a little friendly competition.
Gather With Loved Ones
Community is important to us at Gateway Place Apartments, which is why we make it a priority to offer a handful of different places to gather. There is a large grill station on the paver patio with two grills and the tiki bar nearby.
Throughout the grounds, there are smaller picnic areas with charcoal grills available to use any time.
If you'd rather gather inside, the Clubhouse is open and inviting. It has a full kitchen and plenty of comfortable seating to make everyone feel right at home.
Other Neat Features
Last, but certainly not least, Gateway Place Apartments has unique amenities available for all residents.
If you have a bicycle, it's going to require some routine maintenance. The Bike Hospital station has a bike stand, an air pump, and all the tools you need to do some quick repairs.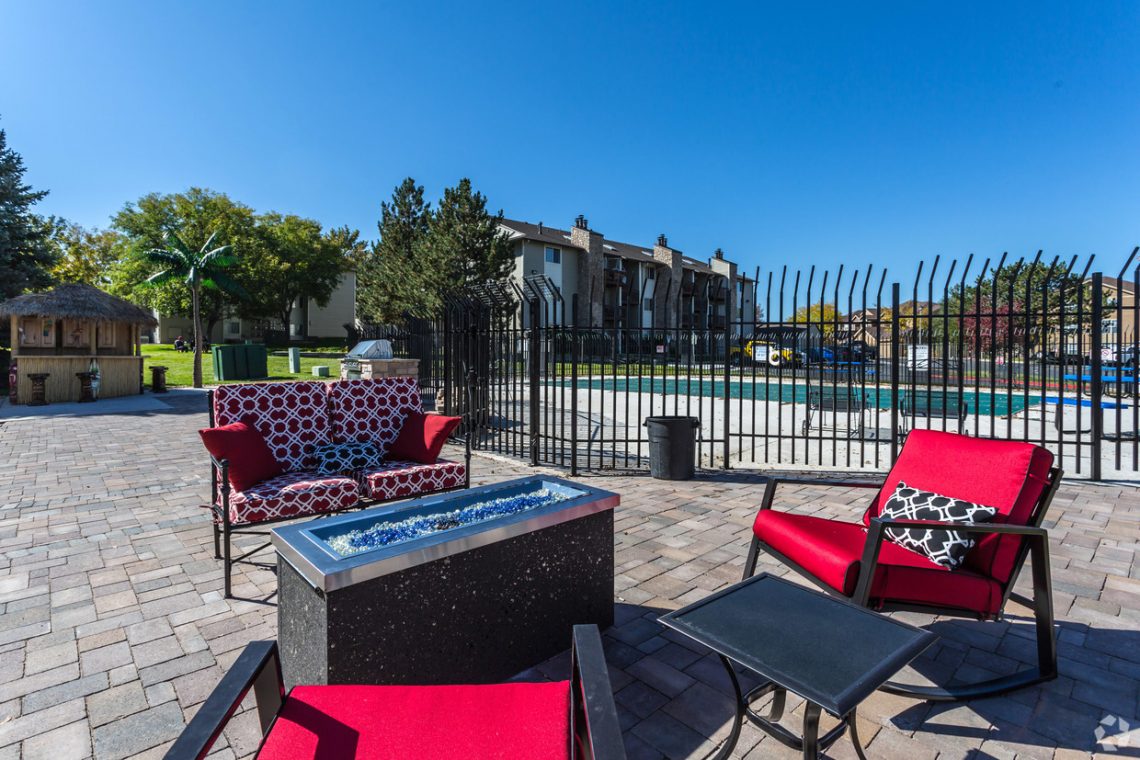 After a bike ride, you might want to sit back and relax. The last two amenities we want to tell you about today will help you relax. You can hang out at the fire pit on the grounds or rent a movie from our free DVD video library.
A Friendly and Courteous Staff at Your Service
All in all, the Community Amenities at Gateway Place Apartments are part of what sets us apart from other complexes in Greeley, but what really turns this complex from a group of apartments into a group of homes is the friendliness and service from the Gateway team. We're here to help you make Gateway Place Apartments your home and community.